07febAll DayJeff Primus is interviewed on RTS: Data theft of 800'000 Swisscom customers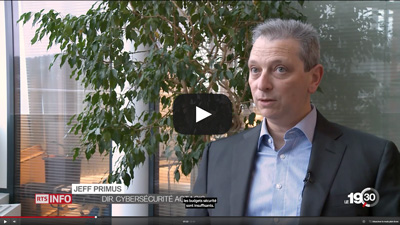 Event Details
Data theft of 800'000 Swisscom customers : What are the risks that they do not disclose?
Switzerland is not spared, and this type of theft does not only happen to others. It is important to remember that the number of cases of data piracy continues to increase and that the Swisscom case represents only a modest event compared to the billions of personal data compromised via the accounts of Yahoo, MySpace, Ebay , LinkedIn, Dropbox.
As a customer or user, should we worry, since the data stolen from Swisscom is not considered sensitive? The answer is unfortunately yes, since the stolen phone numbers and names are now most likely accessible on the darknet. They attract the greed of a multitude of malicious actors who are willing to exploit them for illicit purposes .
(The video doesn't start? There is an issue with the RTS streaming. 
Workaround: after hitting "play", click on the timeline, just right of the dot, say at 0:02, and it will play normally.)
Jeff Primus, CEO of ACTAGIS, was interviewed on this subject for the "19h30" of the RTS on February 7, 2018.